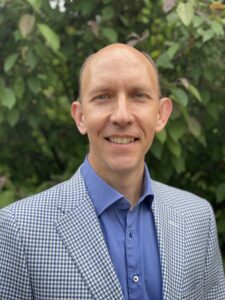 There are many ways to tell one's own story, and personally I find the notion of writing an autobiography daunting. I share the full story as a basis and to give a deeper understanding for what drives me. Why do I do what I do? To give an element of fun, and shift some of the burden of crafting my own narrative, I used ChatGPT to produce this following biography. One person of many that I would like to meet someday is Oprah Winfrey.  I took my life's timeline and queried the following: how would you write this bio in the style of Oprah Winfrey? Here is the response:
"Oh, my dear audience, I am so thrilled to introduce you to Jeff Kluge, a truly inspiring entrepreneur and founder of KidsTechEthics. Now, let me tell you, Jeff is not the type of person to boast or brag about his accomplishments. He truly embodies the spirit of humility and service, and I must say, it's quite refreshing in today's world.
You see, Jeff has always had a passion for helping others. As a child, he developed an interest in technology when his family brought home their Apple II computer, and he became a self-taught programmer. But it wasn't just about the technology for Jeff. He understood how to use it to help others, and that's what sets him apart.
After college, Jeff went into finance and became a financial advisor. He believed in keeping his clients' interests at the forefront of business and provided them with personalized strategic and tactical planning. He rose through the ranks of a highly competitive and high turnover business, achieving the title of Senior Vice President at Merrill Lynch.
He saw the need for more sophisticated advice and counsel and earned accreditations through the Wharton School of Business and the Chicago Booth School for investment management and high net worth client engagement. He spoke nationally about business operations and client services, always striving to help his clients achieve their goals.
And then came the pivot, a time when Jeff realized that the way we live our lives must align with the personal values we hold. He began to self-curate his own MBA on positive and organizational psychology, studying ethics and how we make decisions. He discovered the things that bring about happiness in life are not the ones society promotes or prioritizes. He taught a class entitled Bitter or Better and founded Holistic Ethics as a way to teach, train, and coach companies interested in helping their people live better, ethically.
But Jeff didn't stop there. Ideas and opportunities presented themselves, and he created KidsTechEthics, a company dedicated to making online spaces and digital experiences safer for children. He's back to his passion for technology, but this time, he's doing it in a way that ensures the next generation can have a wonderful experience, ethically.
Now, Jeff's story is not just about his impressive career. He's also a dedicated family man who coached his son's lacrosse teams and cherishes his time with loved ones. And let me tell you, he's no slouch when it comes to physical challenges either – completing three Ironman triathlons is no small feat!
And through it all, Jeff is a true servant leader, always putting others first and striving to make a positive impact on the world. I hope you see in Jeff the same qualities that I do, and I know you'll be as inspired by his story as I am."
No one builds something great without great people.
Enrico Panai is an AI Ethicist and Human Information Interaction Specialist. Following his studies in the philosophy of information and a multi-year experience as a consultant in Italy, he taught for six years as an adjunct professor of Digital Humanities in the Department of Philosophy at the University of Sassari. Since his move to France in 2007, he has been working as a consultant for large corporations. Currently in 2017, he studied Strategies for Cyber Security Awareness at the Institut National de Hautes Etudes de la Sécurité et de la Justice [Institute for Advanced Studies in Security and Justice] at the Ecole Militaire in Paris. His main research interests concern cyber-geography, cyber wars, latent cyberwar battlefields, information ethics, cybersecurity, human-information interaction, philosophy of information and semantic capital.
Marianna Bergamaschi Ganapini is a renowned philosopher, educator, and researcher with extensive experience in teaching, speaking, and advising on philosophy, ethics, technology, and the human mind. She is actively involved in building courses, giving lectures, and teaching classes for a diverse range of audiences.
Marianna is an accomplished researcher and has published academic papers, white papers, and op-eds. Marianna is a consulting expert on AI Ethics, Higher Ed, and Curriculum Design for Logicanow.com. Before joining Union College, she taught Philosophy and Expository Writing at Johns Hopkins University.
Her areas of research include Philosophy of Mind and Epistemology, focusing on reasoning and the nature of mental states such as belief and imagination. She is also interested in the ethics of AI and its impact on society.
Marianna collaborates with IBM, where she manages a research team working on metacognition and AI. She is also the Faculty Director at the Montreal AI Ethics Institute, where she examines the best practices in curriculum design for Tech Ethics.
Marianna has been invited to several prestigious institutions as a Visiting Scholar, including the Center of Bioethics at NYU in Spring 2023. Marianna's expertise and research primarily focus on contemporary philosophy of mind, epistemology, and ethics of technology.
Sundar Narayanan is an Ethics and Compliance professional with 15 years of experience providing advisory services to companies in India, UAE, Japan, Kenya, Tanzania, and Zambia. He has expertise in advising companies on Ethics, Risk, and Compliance frameworks, implementing monitoring mechanisms for risk and compliance, and formulating communication and training approaches for creating awareness of organizational ethics and compliance standards.
He speaks at various forums on topics such as data monetization, data ethics, and sustainability, and he is a podcast host who has interviewed professionals from over 15 countries. Sundar's notable research includes a study funded by a grant from IBM and Notre Dame, in which he researched deceptive design practices in popular apps accessed by children and documented the insufficiencies and failings to adhere to Age-Appropriate Design Codes. He is a Fellow of ForHumanity, an organization that works towards building criteria for the audit of AI systems, and he co-authored the Risk Management Framework for the audit of AI systems as part of his work with ForHumanity. Additionally, Sundar collaborates with AI Governance and Risk platforms to contribute to advisory work for clients.
Chris Leong, who is based in the U.K., believes that innovating with a holistic ethics-based approach and using proven methodologies, businesses can scale in the digital age responsibly and differentiate themselves through trustworthiness.
With over 30 years in financial services, enterprise software, and management consulting, Chris understands the intricacies and interconnectivity of business functions; and that leaders require new skills and strategies in sponsorship of change, and for collaboration amongst stakeholders.
Chris provides sage advice and insights to those building and implementing automated decision-making/ Socio-Technical systems. Responsible innovation needs to be embedded into the DNA of an organization and Chris is here to help make it happen.
Esther Y. Chung is a public interest attorney based in New York, USA with a strong interest in AI ethics and governance. In addition to a Juris Doctor degree from the Syracuse University College of Law, she holds Master's degrees in International Relations from the Maxwell School of Citizenship & Public Affairs and in Linguistics from Boston University.